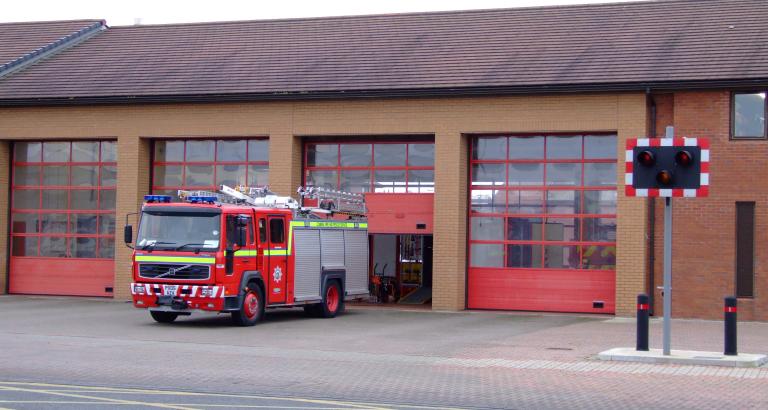 Our stations
Barrow Fire Station
Barrow Fire Station
Phoenix Road
Barrow
LA14 2NS
United Kingdom
Station type
Wholetime and On-call
Barrow is headquarters for Barrow and South Lakeland Area of Cumbria Fire and Rescue Service and as well as providing first attendance to incidents in the station area, it also provides response to back up other stations throughout the area.
The station's firefighters are actively involved in a range of community safety activities including home safety visits and road awareness training.
Drill night
Wednesday 1900hrs
Area
Westmorland & Furness
About Barrow Fire Station
Local stations
Walney - 2 miles
Ulverston - 9 miles
Broughton - 16 miles
67,400 population
Crewing type
On-call
Fleet
2 fire engines
1 aerial ladder platform
1 mass decontaminatin unit
Barrow's Phoenix Road fire station was opened in 1996 replacing the old central fire station in Abbey Road. Covering the coastal town of Barrow with a population of 50,000 in some 20,000 households, it was the first new station to be built by Cumbria Fire and Rescue Service since the service's formation in 1974.
The site as well as containing the station and area headquarters, has a large drill ground with tower and comprehensive training facilities. The area office section of the building doubles as an emergency control centre for the Furness and South Lakeland Area and as such would be utilised by responding agencies for a major emergency in that area.
Although Barrow remains predominantly a shipbuilding town with the BAE Systems shipyard specialising in submarine construction, crews from the station also train regularly on the more diversified risk sites such as the gas terminals, a paper mill and vessels in the dock system.
Further information for this fire station is available on a number of themes at the Cumbria Intelligence Observatory, including:
Population 

Crime and Community

Health and Social Care

Housing

Economy and Employment

Environment

Children and Young People
Please visit www.cumbriaobservatory.org.uk and choose a fire station area for your particular theme of interest.
The area contains:
• 1 Heritage site, Bow Bridge
• 7 Grade I Listed and 11 Grade II listed Buildings
• No significant Environmental Risk Sites identified within the Station area
• Site Specific Risks within the station area, British Gas Plc, BAE Systems LTD, Bae Systems Top Yard Area A, BAE Systems Devonshire Dock, Laporte Wood Protection Ltd, Partylite Manufacturing, Sovereign Chemical Industries Ltd, INS Nuclear Terminal, Urofoam Ltd Advanced Roofing Supplies, Centrica South, Centrica North, Furness General Hospital, Robert McBride Group, United Utilities (Electricity) Depot, Shanks Waste Solutions and CCW Manufacturing Ltd.
• Barrow is at risk of tidal flooding but on a low scale with a return period of approximately 1:200 years. Surface water flooding causes some localized risk to some properties.