Safety outdoors
Road safety
Cumbria Fire & Rescue Service attends road traffic accidents on the county's roads. We aim to contribute to raising road safety awareness and have a positive impact on the number of people killed and seriously injured on the roads.
Every year we attend hundreds of road traffic collisions, rescuing drivers and their passengers and providing emergency first aid and trauma care.
Road traffic collisions can be devastating, not only to those involved, but to their friends and loved ones.
We want you to be safe when driving around the area, so follow the advice below to reduce the risk of being involved in a road traffic collision.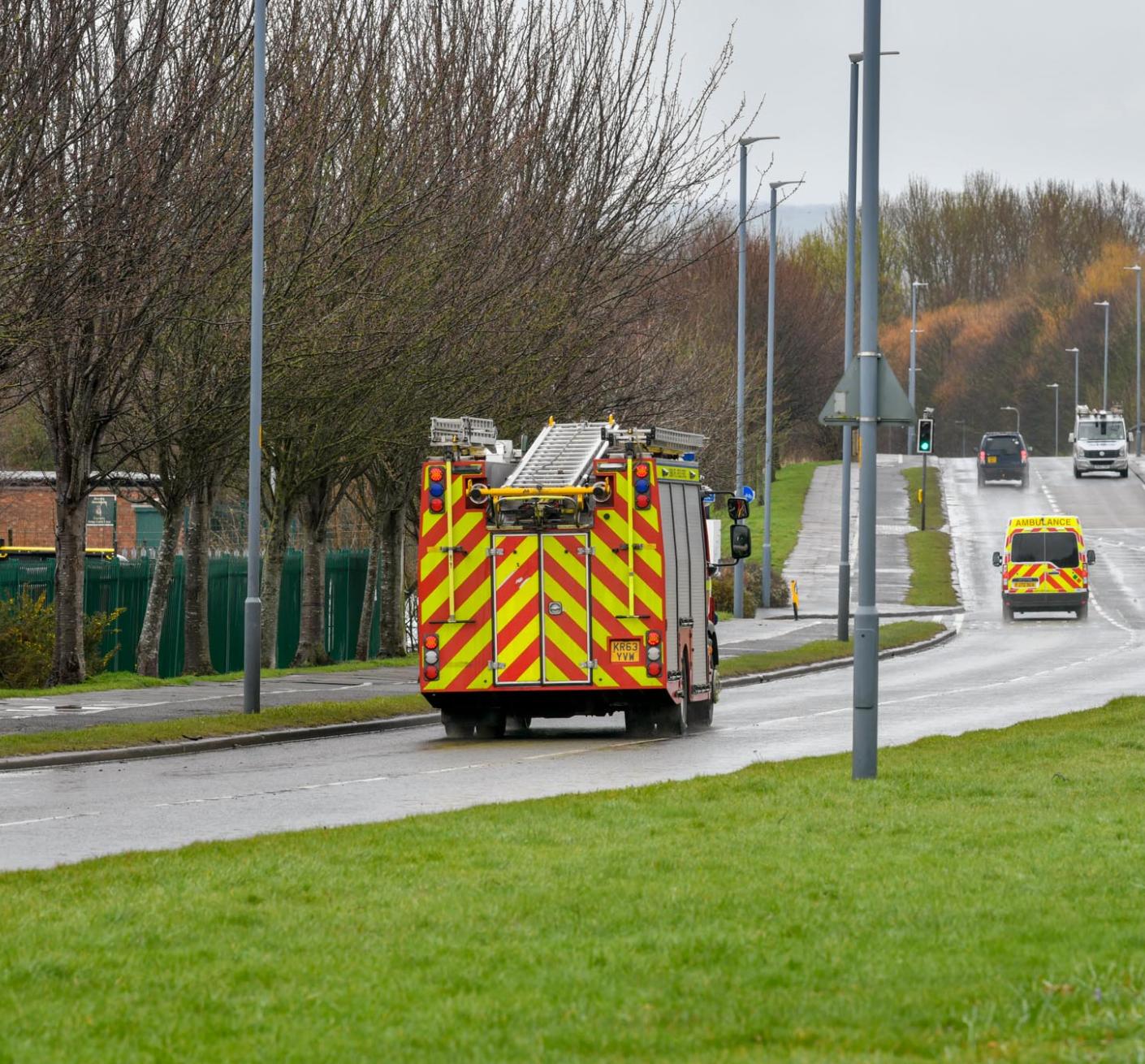 Road Awareness Training is an effective education package that is designed to be delivered at the final school year (Year 11) before pupils are allowed to drive on the roads. This package is to raise their awareness of the dangers on the roads and what the effects of road traffic collisions and of the consequences to themselves and to others if they cause or are involved in a collision. This is a hard hitting programme that does show graphic accounts of road collisions.
The county not only has some of the most scenic drives in the country it also has some of the most potentially lethal with Cumbria having one of the worst accident records per head of population in the UK. The Road Awareness Training (RAT) Programme is an inter-agency programme with Capita's Road Safety Department and vehicle road recovery companies.
The purpose of the programme is to educate younger people of the dangers on the road and the consequences when something goes wrong.
Cumbria has the second highest accident rate for seventeen to twenty one year olds in England. By addressing the dangers to pupils before they get on the road, and in their first year of driving, it is hoped to significantly reduce accidents in Cumbria and make the roads safer for everyone.
If you are a teacher and would like to arrange a visit or discuss the programmes please contact your nearest fire station who will be happy to arrange a visit or phone freephone 0800 358 4777.
Whatever you're driving, the condition of your tyres is critical for your safety as they're the only part of your vehicle in contact with the road. 
Motorcycles
Check your tyre pressures from cold at least once a week using an accurate gauge.
Inflate tyres to the pressure recommended in the manufacturer's handbook.
Inspect tyres for cuts, bulges, uneven wear or objects embedded in the tread.
Check that your tread depth is not below the legal minimum of 1mm (for bikes over 50cc)
If your rims are cracked or bent they should be replaced immediately.
Replace old or damaged valve stems.
Select the correct type of tyre for your machine and riding style.
Check that both tyres fitted to the bike are made by the same manufacturer and have the same tread pattern.
Make sure that your tyre has been fitted the right way round by checking the directional arrows on the sidewall.
When replacing tube type tyres always use a new inner tube.
Make sure your tyre/wheel assembly is balanced correctly.
Use dust caps to keep dirt away from the valve core and to act as a secondary air seal.
Keep oil and grease off your tyres using detergent if necessary.
If you are unsure on any aspect of tyre pressure or tyre condition take your motorcycle to an approved fitting centre and speak to a qualified professional.
Cars
Whatever you're driving, the condition of your tyres is critical for your safety as they're the only part of your vehicle in contact with the road.  Because your tyres play such a vital role, there are some very important and specific legal requirements relating to their condition and maintenance:
Tyres must be fit for purpose and be free from any defects which might damage the road or endanger any person.
Tyres must be correctly inflated to the vehicle and tyre manufacturer's recommended pressure.
Be compatible with the types of tyres fitted to the other wheels
Not have any lumps, bulges or tears caused by separation or partial failure of the structure.
Not have a cut or tear in excess of 25mm or 10% of the sectional width of the tyre, whichever is the greater, and which is deep enough to reach the ply or cord.
Not have any part of the ply or cord exposed.
Car tyres should have a minimum of 1.6mm throughout a continuous band in the centre 3/4 of the tread and around the entire circumference, however we recommend you have at least 3mm.
Vans
Use a reliable and accurate pressure gauge to check the pressure of van tyres at least once a month or before a long trip.
Check the pressure in all tyres not forgetting to check any spare tyre(s) as well.
Tyre pressure should be checked against the vehicle manufacturer's recommended operating pressures for the load being carried.
Check the pressure when tyres are cold or when the vehicle has travelled less than two miles.
When checking pressures, give the rest of the tyre a thorough visual inspection. Remove any stones and other objects embedded in the tread. Look out for any cuts, lumps or bulges.
If you are unsure on any aspect of tyre pressure or tyre condition take your vehicle to an approved fitting centre and speak to the experts.
The facts
In a crash you're twice as likely to die if you don't wear a seatbelt.
Drivers and passengers aged 17-34 have the lowest seatbelt-wearing rates combined with the highest accident rate.
There is evidence that people are less likely to use seatbelts on short or familiar journeys - this puts them at serious risk of injury in a crash.
The law
Drivers and passengers who fail to wear seatbelts in the front and back of vehicles are breaking the law.
Drivers caught without a seatbelt face on-the-spot fines of £100. If prosecuted, the maximum fine is £500.
Adults travelling in the rear of a car must also use seatbelts, if they're fitted. It's the responsibility of the adult passenger (not the driver) to make sure that they are using the seatbelt.
Children in cars
You must make sure that any children in the vehicle you're driving are:
In the correct car seat for their height or weight until they reach 135 centimetres tall or their 12th birthday, whichever is first.
Wearing a seat belt if they're 12 or 13 years old, or younger and over 135cm tall.
You can be fined up to £500 if a child under 14 isn't in the correct car seat or wearing a seat belt while you're driving.
Children under the age of 14, travelling in the rear of a car that has appropriate restraints, must belt up. ' It is the responsibility of the driver to make sure children under 14 years of age are wearing their seatbelts...once 14 years old it is up to the passenger to take responsibility!
Oil - Make sure you check your oil before any long journey
Washer Fluid - Always make sure you windscreen washer fluid is topped up
Engine Coolant - Always ensure you're engine coolant is at the correct level (anti-freeze) please refer to product guidelines for correct amount.
Tyres - Always make sure your tread depth is above 1.6mm, we recommend a minimum of 3mm
Light - Make sure you check all operating lights before any journey.
Fuel - Make sure you have enough fuel to reach you destination.