Cumbria donate a fire engine, kit, and equipment to support firefighters in Ukraine
A convoy of fire engines, kit and equipment is now on its way to support firefighters on the frontline in Ukraine from fire and rescue services across the country.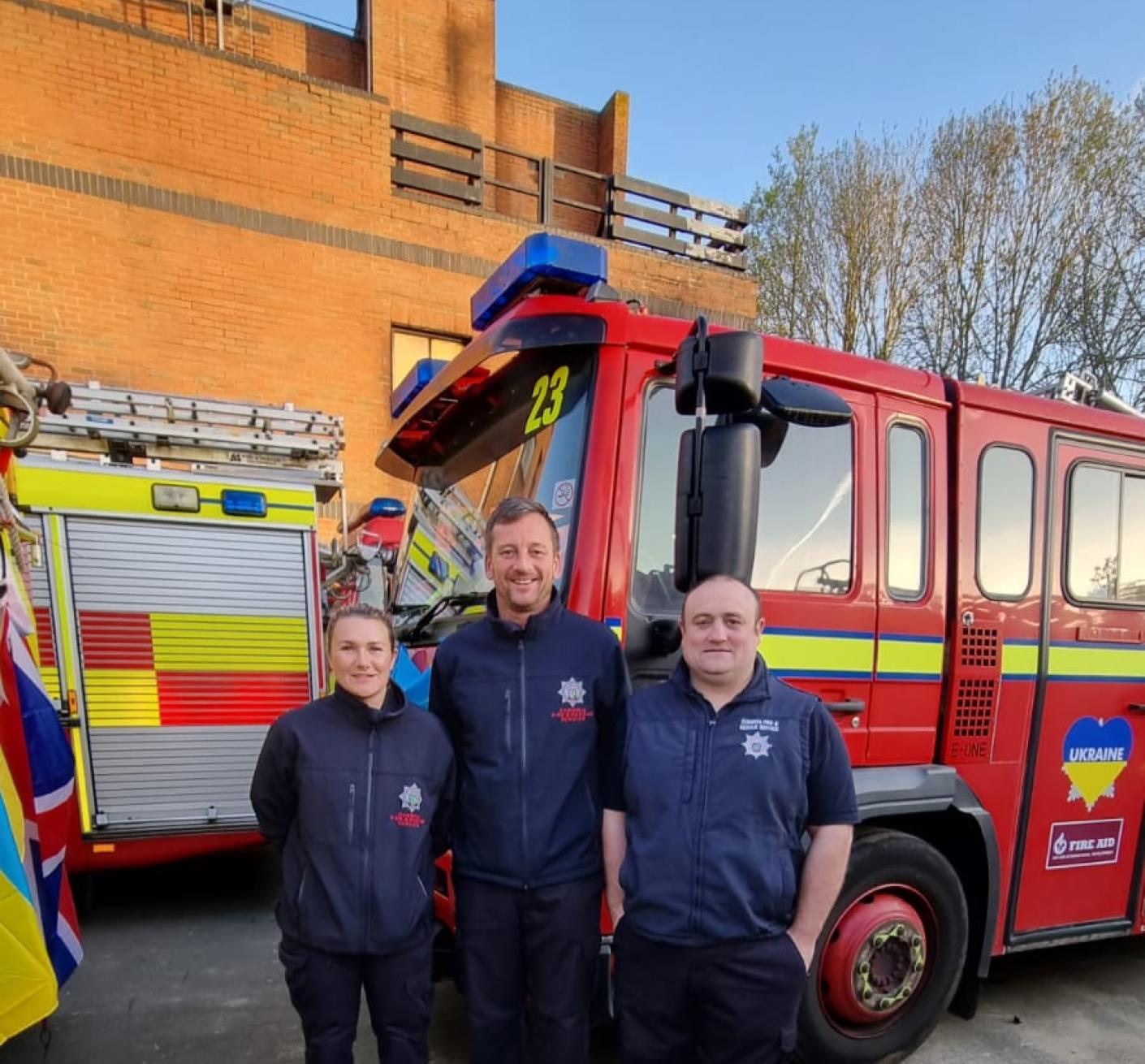 The fifth convoy left the UK on Wednesday 3 May which means UK fire and rescue services have now donated 86 fire engines and more than 160,000 items of kit, all desperately needed in Ukraine as the devastating war continues.
The humanitarian aid convoy has been organised by the National Fire Chiefs Council, FIRE AID and International Development (FIRE AID), with support from the wider sector and the Home Office. Items have also been donated by police forces coordinated through the National Police Chiefs Council (NPCC).
Coordinated by NFCC's National Resilience function, the fifth convoy is made up of 25 vehicles, packed with more than 8,000 items of life saving kit and equipment.
Around 80 volunteers from fire and rescue services will ensure its safe passage across Europe. Firefighters will hand over the convoy in Poland, where it will then be delivered to where it is needed most. Fire engines, helmets, generators, lighting, hose, rescue equipment, and thousands of sets of firefighting PPE are among the items being donated.
This year, the first part of the convoy saw fire and rescue services from the North West meet in Merseyside to undertake the first leg of the journey and to commemorate the link between Ukraine and this year's Eurovision Song Contest. Liverpool is hosting the contest on behalf of Ukraine next month, who won the competition in 2022.
The vehicles and equipment have been donated by 17 fire and rescue services across England and Wales including Avon, Cheshire, Cumbria, Merseyside, North Wales, North Yorkshire, West Yorkshire, Shropshire, South Wales, Cleveland, Essex, Lancashire, Mid and West Wales, Oxfordshire, Royal Berkshire, Tyne and Wear, and Gloucestershire.
Cumbria's Chief Fire Officer John Beard said: 
"I am incredibly proud to see the fifth convoy of fire and rescue service vehicles and equipment come together once again. 
"The determination and pride of all involved is testament to how committed everyone is to help our colleagues in Ukraine who continue to see war devastation in their country, while putting their own lives on the line with often limited resources.
 "We know how much firefighting equipment is being lost in Ukraine each day, so for Cumbria to be able to play our part in supporting the convoy to give vital assistance will make a difference.
"Since the beginning of the Ukrainian war, 373 firehouses and 1,581 fire vehicles have been destroyed, 67 firefighters have been killed, 215 firefighters have been injured and 5 firefighters are in captivity. These figures really highlight why our national support is so important.
"Our thoughts continue to be with the Ukrainian emergency services who are protecting their communities in the most difficult of circumstances." 
Cumbria's Police, Fire and Crime Commissioner, Peter McCall, said:
"The war in Ukraine has had a devastating effect on the country, its people and their emergency services.
"This is why the provision of aid is so important and Cumbria Fire and Rescue Service, together with other Fire and Rescue Service's across the country are making a valuable contribution.  Whilst the equipment being donated is surplus to our requirement it is still serviceable and of enormous benefit and use to Firefighters in Ukraine who have lost so much of their own resource in the war.
"The fire and rescue industry have worked together to make this a reality in conjunction with FIRE AID and other partners. 
"This shows what we can achieve when we work together and I am sure it will make a difference to both firefighters on the front line and people living in Ukraine, under the most difficult of conditions.
"I am really pleased to see Cumbria Fire and Rescue taking part is this humanitarian effort – I am sure it will be much appreciated by the people of Ukraine."