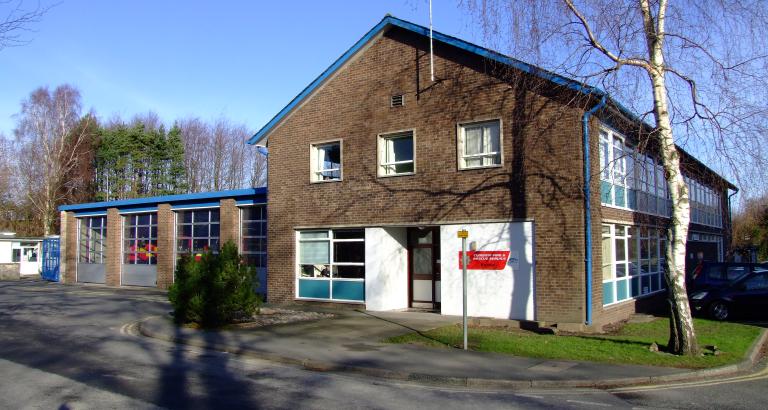 Our stations
Kendal Fire Station
Kendal Fire Station
Busher Walk
Kendal
LA9 4RH
United Kingdom
Station type
Wholetime and On-call
Kendal fire station is staffed by Regular and On-call Firefighters and houses 2 fire engines and a Prime Mover which is used to transport the county's 2 High Volume Pumps (HVP).
The HVPs, in addition to giving Cumbria the capability of tackling serious flooding incidents, have been used very successfully, on a national basis, outside the county too. Risks in the area include responding to road traffic collisions due to the adjacent M6 motorway and the nearby 'A' roads. The River Kent originates in hills surrounding Kentmere, and flows for around 20 miles into the north of Morecambe Bay. The stations firefighters receive specialist training to deal with water incidents.
Drill night
Thursday 1900hrs
Area
Westmorland & Furness
About Kendal Fire Station
Local stations
Staveley - 4 miles
Milnthorpe - 8 miles
Windermere - 8 miles
36,00 population
Crewing type
Wholetime and On-call
Fleet
2 fire engines
1 high volume
1 boat
Kendal is situated in the south east of Cumbria and is mainly an industrial town formed by many small industries with a population of around 33,000. The towns' ideal location means that it attracts a large transient population of holiday makers on their way to the Lakes increasing the sleeping risk particularly during the holiday seasons. In the recent past, the towns' success was mainly due to businesses like shoe manufacturing and the insurance industry, now however, the town continues to be successful by way of a varied industrial work-base. 
Further information for this fire station is available on a number of themes at the Cumbria Intelligence Observatory, including:
Population 

Crime and Community

Health and Social Care

Housing

Economy and Employment

Environment

Children and Young People
Please visit www.cumbriaobservatory.org.uk and choose a fire station area for your particular theme of interest.
The area contains:
• 5 Grade 1 and 19 Grade II listed Buildings
• 7 Sites of Specific Scientific Interest
• Site Specific Risks within the station area, Watchgate Water Treatment Works, Westmorland General Hospital, Furmanite International Ltd, Farleys Health Products, James Cropper, Westmorland Shopping Centre, National Grid Sub Station
• Kendal Station area has significant flood risks. The Flood Risk area covers approximately 9.4 Km2 from James Cropper paper mill in Burneside village to Helsington Mills at the southern extremity of Kendal. The Kent rises in the hills surrounding Kentmere and flows only a short distance of 32Km before entering the sea at the Northern End of Morecambe Bay. The Kent has three main tributaries joining upstream of the town, the Mint, Sprint and Gowan. The flood catchment is predominantly rural apart from the urban area of Kendal whose early industry developed alongside the banks of the Kent. There are almost 1500 properties at risk.