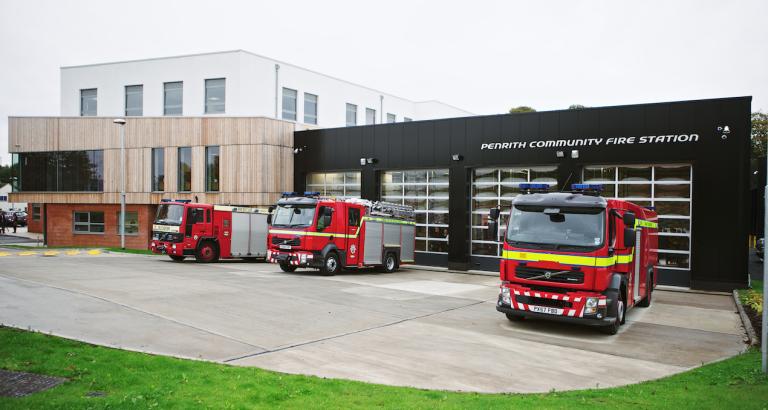 Our stations
Penrith Fire Station
Penrith Fire Station
Carleton Avenue
Penrith
CA10 2FA
United Kingdom
Station type
Day crew and On-call
Penrith fire station is staffed by Regular and On-call Firefighters and houses two fire engines, one Prime Mover with Environmental Protection Unit (EPU), one Water Bowser (also used as a training vehicle) and one Enhanced Logistical Support vehicle (ELS).
The station also provides cover to a large remote rural area covering approximately 37,500 hectares. Penrith is situated at the crossroads of the M6 and the A66 so deals with a number of road traffic collisions.They also attend agricultural fires such as barn fires and livestock rescues. The station's firefighters also receive specialist water rescue training.
Drill night
Tuesday 1830hrs
Area
Westmorland & Furness
About Penrith Fire Station
Local stations
Lazonby - 8 miles
Shap - 10 miles
Appleby - 13 miles
24,400 population
Crewing type
Day Crewed and On-call
Fleet
2 fire engines
1 water bowser
1 national resilience enhanced logistics vehicle
1 environmental protection unit
1 joint incident command control unit
1 training appliance
Penrith has a rich history. It was in the 9th and 10th century that the town became the capital of Cumbria, a semi-dependant state which until 1070 AD formed part of the Kingdom of Scotland and Strathclyde. The two oldest streets, Burrowgate and Sandgate, date from the 13th Century and there are additional significant heritage buildings within the station area.
Further information for this fire station is available on a number of themes at the Cumbria Intelligence Observatory, including:
Population 

Crime and Community

Health and Social Care

Housing

Economy and Employment

Environment

Children and Young People
Please visit www.cumbriaobservatory.org.uk and choose a fire station area for your particular theme of interest.
The area contains:
7 Heritage Sites, 19 Grade II listed buildings and over 70 Grade I listed buildings
The River Eden is a Special Area of Conservation, and there are 14 Sites of Specific Scientific Interest
There are 4 Site Specific Risks; Ullswater Pumping Station, Omega Proteins (Wildriggs), Carrs Billington Agriculture and Rheged
Flood Risk:
The River Eamont at Eamont Bridge has caused flooding in recent years: 1968, 1985, 1995, 2005 and 2009 are examples of some of the worst occasions. The Eamont catchment covers an area of approximately 230Km2 and its main tributaries are the River Lowther, Dacre Beck and Thacka Beck. Average annual rainfall is high over most of the catchment ranging from 270mm in the South West to 800mm in the North East. Flooding in the Eamonth Bridge area is mainly due to the River Eamonth outflow from Ullswater but Dacre Beck, which joins the Eamont upstream of the Eamont Bridge Flood Warning area, can often have a significant influence during flood events. There are approximately 90 properties at risk, including Southwaite Green Mill Caravan Park. 
Penrith Station is also the first to respond to flood risk again arising from the river Eden, at Armathwaite. The Armathwaite Flood Warning Area covers approximately 0.0015Km2 and consists of isolated properties, roads and high quality agricultural land from Langwathby to Armathwaite. There are approximately 32 properties at risk, including Armathwaite Castle. Major flooding to the area has occurred in 1822, 1856, 1925, 1968, 1972, 2005 and 2009.
The centre of Penrith flooded in 2003 and again in 2006 as a result of localised heavy rainfall over the Thacka Beck catchment (M6 corridor between J40-41). It affected the businesses on Middlegate, particularly those close to Burrowgate.
The risks within the town are both residential and commercial and with major roads being major arterial ways for the County, and ever increasing number of road traffic collisions are now being attended.