Fire Cadets
Cumbria Fire and Rescue Service runs a Fire Cadet programme from Workington Fire Station.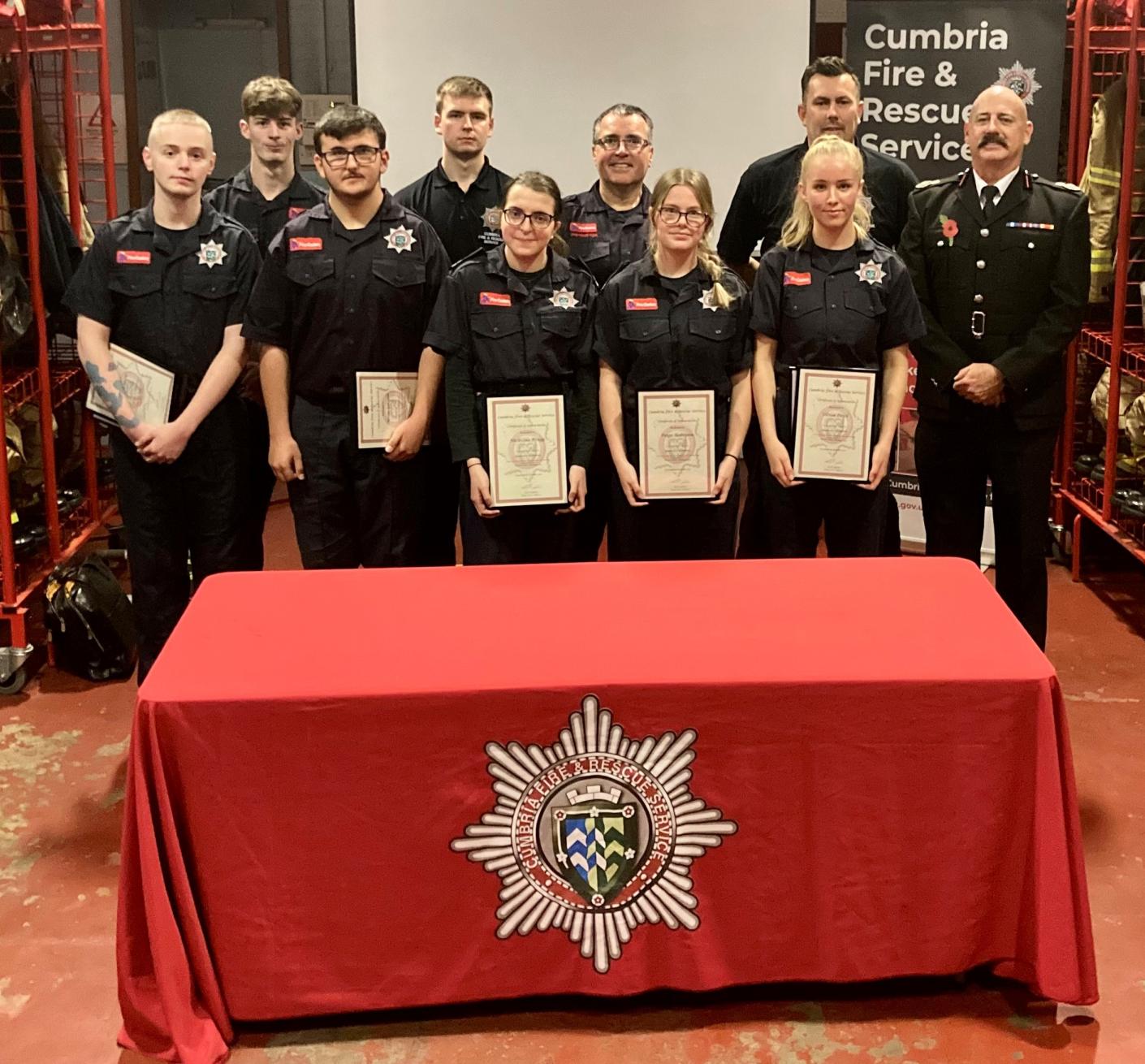 Joining Fire Cadets gives young people an opportunity to participate in realistic fire service activities, which closely replicate drills completed by operational fire crews.
Open to those aged 13 to 17, the free course runs over 12 weeks on Thursday evenings and no previous experience is necessary as full training is given. Equipment is also provided.
The next course begins on November 30, 2023 and runs until March 2024.
The course will include training and competency tests on ladder climbing, breathing apparatus search and rescue techniques, hose and pump drills, first aid and water safety.
Once the training course has been completed, new recruits are given the opportunity to join the squad of qualified Cadets which takes part in further training and community visits and events.
For more information, please read the documents attached or contact Jason Ferguson on jason.ferguson@cumbriafire.gov.uk or 07827 826401.
How old do I need to be?
The minimum age at enrolment is 13 years (although 12 years will be considered if you are in a year 8 school group).
Where and when do you meet?
Our Weekly drill nights are held at Workington Community Fire Station, Moorclose Road, Workington, CA14 5BF. Although we occasionally travel off station for visits and activities, you must be prepared to commit to travelling to the station for your drill nights.
We meet on Thursday evening. Normal sessions run from 17:00 hrs to 20:00 hrs
How much does it cost?
Community Fire Cadets is free to attend. All PPE, protective clothing / footwear and equipment is provided. After training you will be issued with cadet uniform for use on drill nights, community events and training sessions. We occasionally undertake fundraising activities, which in most cases covers the cost of off-site visits, trips, and a summer residential.
What do you do?
New cadets will receive a minimum of 12 weeks training that covers all aspects of Cumbria Fire and Rescue Service work (including basic fire-fighting techniques, hose and pump drills, Road Awareness Training and RTC casualty extrication, Breathing Apparatus search and rescue techniques, ladder climbing, community safety, emergency life support (first aid), water safety and rescue techniques, team working, communication and problem-solving skills.
When all elements of training have been completed, cadets are invited to take part in a passing out parade and receive a certificate of recognition from Cumbria Fire and Rescue Service.
How much time do I need to commit?
You only need to commit to the weekly 3-hour session on Thursday evening to complete all elements of basic training have been completed (this may take longer than 12 weeks depending on station emergency responses).
I'm not very confident. What happens if I can't do all the training drills?
We support every member of our cadet group to achieve more than they think is possible. Teamwork is a big part of fire cadets, and you will be fully supported by our instructors and developed cadets, to complete all parts of the programme.
What happens after my initial training course?
After training, new recruits are given the opportunity to stay with us and join our squad of qualified cadets. They will be invited to join us on off-site visits and training events, community activities, developmental training sessions and residential opportunities.
We have a structured career development route and depending on your age, commitment, and personal aspirations you can work towards the rank of cadet crew manager, watch manager, Station Manager and ultimately peer mentor work, as a cadet training instructor. All cadets wishing to stay with us will be given a personal development plan with a specific role.
At age18 you can join our pool of volunteer instructors and continue your involvement in cadets, helping us to train new cadet recruits.
I don't know anything about the fire service, can I still join?
Previous experience and specific skills are not needed, all we ask is that you are enthusiastic, willing to work as part of a team and want to have fun whilst learning valuable community safety and life skills. Whilst some cadets aspire to be firefighters, many simply want to have fun and learn something new. Many of the skills that you will develop as a cadet can be transferred to a range of careers.
I'm interested. How do I enrol?
We normally recruit annually and will try to delivery taster sessions prior to starting a new group. This gives young people an opportunity to decide if it is the right programme for them before committing to the full course. Alternatively, we are happy to arrange to meet potential recruits prior to a drill night to have an informal chat and even give you a chance to try out an activity. However, it is essential to contact us in advance so that we can arrange to meet you on arrival.
Fire Cadets - membership information
Fire Cadets - application form