Fire and police leaders sign up to Armed Forces Covenant
The county's fire and police leaders have made a commitment to the Armed Forces by signing the national Covenant.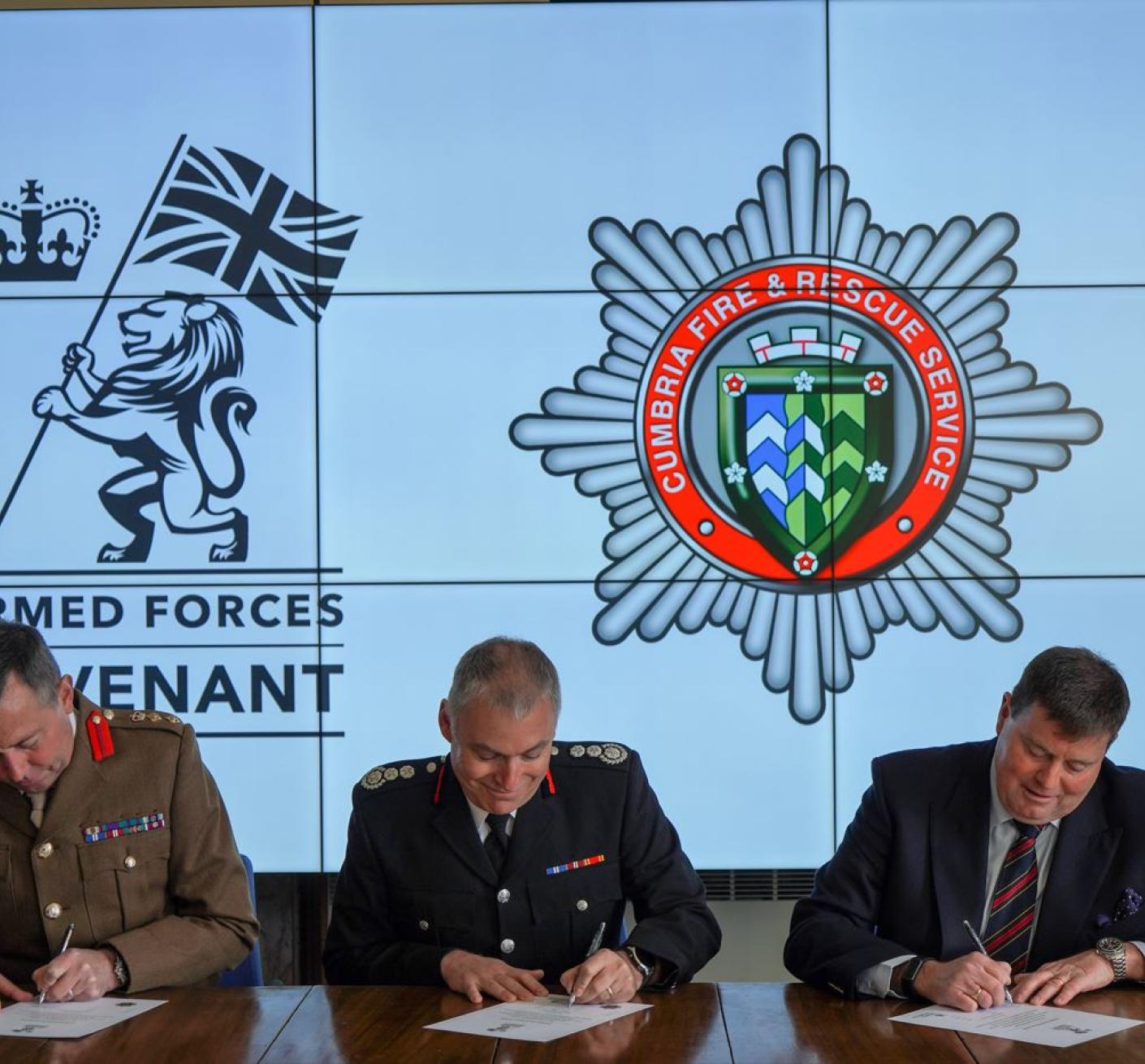 This means both services recognise the value of serving personnel, veterans, Reserve Forces and military families and promises to ensure those that serve or have served, and their families, will be treated fairly.
Chief Fire Officer John Beard, together with Chief Constable Michelle Skeer and Cumbria's Police, Fire and Crime Commissioner Peter McCall, signed the covenant on Tuesday 25 April at an event at Cumbria Police Headquarters in Penrith.
A number of members of the defence community currently working for both organisations also attended the event.
Written into law, the covenant states that Armed Forces personnel, veterans or their families will not be disadvantaged by their military life. 
Chief Constable Michelle Skeer said:
"On behalf of our police force, I was delighted to pledge our commitment to supporting former, and serving, services personnel.
"There are many serving and retired police officers and staff that have also spent time serving in the Armed Forces, which provided them invaluable skills and experience which they used to keep the communities of Cumbria safe.
"The sacrifices that those in the Armed Forces, and their families, have made and continue to make is commendable.
"I am confident that we will provide a level of service that seeks to support and develop people who come from the military."
Chief Fire Officer John Beard said:
"We recognise the quality of our service to the community is reliant on the people that we employ. We have sought to create a workforce that is diverse in its representation and in its thinking, and those who share our values.
"This week on behalf of Cumbria Fire & Rescue Service, I am proud to pledge our commitment to the Armed Forces Covenant in recognition of the value that serving personnel, reservists and veterans bring to our Service. Signing the Covenant shows our commitment to them, and their families, and we will continue to drive action to make ensure our Service is a forces friendly employer."
Cumbria's Police, Fire and Crime Commissioner, Peter McCall, said:
"I am, of course, pleased that both Police and the Fire and Rescue Service are committed to signing the Armed Forces Covenant.
"As a former Colonel in the British Army, I have seen first-hand the dedication and sacrifice of those who have served in the Armed Forces, and the skills, experience and positive attitude they can bring into civilian life when they leave the Forces, I'm sure everyone would agree that they truly deserve fair treatment from all services.
"It can be extremely difficult for a small number of veterans to adjust to civilian life, so I am grateful that this Covenant is enshrined in law and being upheld here in Cumbria, something I am working to achieve for Policing too.  The vast majority of veterans bring great value to their employers in all walks of civilian life, after military service and I believe they are a superb addition to both our policing and Fire and Rescue teams.
"Together – we can make Cumbria a safer place for all."